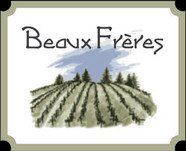 Beaux Frères Winery
---
ORIGIN: Oregon
TYPE/VARIETAL: Pinot Noir
PRODUCT: Beaux Frères Pinot Noir
While on vacation in 1986, Michael Etzel came upon an 88-acre pig farm for sale located on Ribbon Ridge in the Northern Willamette Valley, Yamhill County, Oregon. After some deliberation, Michael purchased the farm with his brother-in-law (the French idiom is "beaux frères"), Robert Parker, Jr.
Michael uprooted his young family from Colorado and moved to the farm the following summer. He began his focused pursuit as a vineyard manager by planting only Pinot Noir and slowly transforming the old pig and dairy farm into his jewel. While planting his own vineyard, Michael worked four harvests at Ponzi Winery. In 1990, Michael harvested his first crop and sold the grapes, except enough to make one barrel, to winemakers Ken Wright and Dick Ponzi.
In 1991, a renovation of one of the barns led to the creation of Beaux Frères Winery. With each new vintage, Michael's efforts further unveil his pursuit of Pinot Noir that is the purest expression of the vineyard.
ADDITIONAL PRODUCTS:
Beaux Frères Zena Crown
Beaux Frères Upper Terrace
Beaux Frères Willamette Valley
Back to Wines: US: Oregon