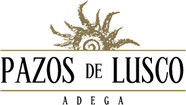 Lusco
---
ORIGIN: Spain
TYPE/VARIETAL: Albariño
PRODUCT: Lusco Albariño
The Pazos de Lusco winery, within the Rias Baixas DO, is located in the municipality of Salvaterra do Miño, in the province of Pontevedra. The Rias Baixas DO in Galicia in north-west Spain is a small wine-growing region that covers a mere 400 hectares. Pazos de Lusco is found in the Condado de Tea production area in the south of the region, 40km from the coast. Conditions in the area are perfect for grapes to ripen; moderate rainfall, low winter temperatures and sunny summers, while the soil is poor in organic material, sandy, with high mineral content and excellent drainage, producing riper and less acidic wines than in other areas closer to the coast.
Pazos de Lusco Albariño is brimming with fruit, harmonious and well balanced. Production is limited, with natural methods being used from the selecting and picking of the grapes and traditional wine making methods during the vinification including fermentation by natural yeasts.
The name of the winery is typically Galician. A pazo is a traditional Galician ancestral home usually in the country side. Lusco is an idiomatic Galician word that defines the magical moment between dusk and nightfall when the sun is going down.
WEBSITE: https://lusco.es/