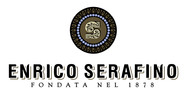 Enrico Serafino
---
ORIGIN: Italy
TYPE/VARIETAL: Nebbiolo
PRODUCT: Enrico Serafino Barolo
Enrico Serafino was founded in 1878 in Canale d'Alba, one of the main towns in the Roero region of Piemonte, Italy, which has a rich history dating back to the Middle Ages as a farming center for the area.
Today the winery still stands in its original location, making it the oldest winery in the region. Established by businessman and landowner Enrico Serafino, the winery quickly became well-known and respected throughout Piemonte and Italy and was one of the first to sell the region's classic wines throughout Italy and abroad. During this time, Enrico Serafino was also active in the production of Metodo Classico sparkling wines, which would later directly contribute to the formation and recognition of the Alta Langa DOCG.
Over the next decades the winery went through several transitionary periods bringing it to its current incarnation under the Krause family, who purchased the winery in 2015. Understanding its long and important history in the region as a producer of both still and sparkling wines, the new owners are committed to re-establishing Enrico Serafino as one of today's leading wineries in Piemonte.
WEBSITE: http://www.enricoserafino.it/
ADDITIONAL PRODUCTS:
Enrico Serafino Nebbiolo D'Alba
Enrico Serafino Gavi di Gavi
Enrico Serafino Barbera D'Alba
Enrico Serafino Brut Alta Langhe
Enrico Serafino Brut Zero Alta Langhe
Back to Wines: Italy