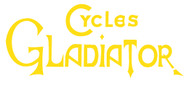 Cycles Gladiator
---
ORIGIN: US: California
TYPE/VARIETAL: Pinot Noir
PRODUCT: Cycles Gladiator Central Coast Pinot Noir
It's been ten years since Cycles Gladiator came out with its iconic label, great Central Coast wine, and plenty of "moxie". Through the years, though, the brand lost its way: the label changed minimizing the girl to the point of irrelevance, the wine was downgraded to a lesser appellation, and Adam LaZarre, the original winemaker, left. The two always wondered what could have been...
But like any good love story – this one has a happy ending. The girl on the bicycle is back. Adam is back. And both are better than ever.
As part of bringing back Adam LaZarre, Cycles Gladiator moved the wine back to the Central Coast and secured a long-term sourcing agreement. This insures that Adam selects the vineyards, oversees the farming, and has complete control over winemaking. In order to communicate this quality element of the brand they have included a Central Coast Vineyard to Table seal on the bottle's back label.
The result is a Central Coast brand that provides a consistent level of quality at a price/value ratio that is unmatched in the market.
That's the "Vineyard-to-Table" Promise.
About the Winemaker: Adam LaZarre
Working on his passion for over 20 years, Adam LaZarre is one of California's most acclaimed winemakers, having won the LA International Wine Competition a record 3 times, amongst numerous other accolades.
WEBSITE: https://cyclesgladiator.com
ADDITIONAL PRODUCTS:
Cycles Gladiator Petite Sirah
Cycles Gladiator Merlot
Cycles Gladiator Chardonnay
Cycles Gladiator Cabernet Sauvignon
Back to Wines: US: California