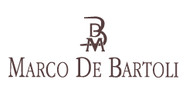 De Bartoli
---
ORIGIN: Italy (Sicily)
TYPE/VARIETAL: Marsala (100% Grillo)
PRODUCT: De Bartoli Marsala d'Oro Vigna La Miccia
The most brilliant minds are always ahead of their times. Marco DeBartoli gave birth to a new style of marsala by marrying tradition with new methods of winemaking.
He is a person as solar and impetuous as his boisterous land. When you meet him, he would tell you everything in a few minutes, and let you taste everything he produces, explaining its joy and satisfaction after reading those positive reviews for his wine and, at the same time, expressing his anger as it is considered to be simply the wine from the South, like an expert of Southern Italy politics. And suddenly he hurls abuse at those men of his own land who has turned the name "Marsala", for decades now, into an almost vulgar word. He has tears in his eyes when he speaks about the deterioration of his Sicily. He is lighted up in fury, but he relaxes right away, absorbed by his uncountable projects, when he approaches the glass to his lips.
An innovative contemporary expression of marsala, Vigna La Miccia, was born in 1985. It offered all the personality of a marsala wine in a more subtle, elegant version. The most fruity and delicate notes of the grape have been preserved thanks to cold vinification and avoiding any contact with oxigen during the aging period.
3,500 Grillo vines per hectare were planted in 1996 in Contrada Samperi, Marsala, and trained to Guyot. The grapes are picked and selected by hand, then vinified using soft presses, natural sedimentation, and temperature-controlled fermentation in 50-hectolitre stainless-steel vats. The wine ages for 4 years in French oak barriques that are kept full at all times. It then is fined in the bottle for a further 6 months.
WEBSITE: http://www.marcodebartoli.com