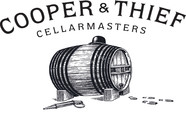 Cooper & Thief
---
ORIGIN: US: California
TYPE/VARIETAL: Red Blend (Bourbon barrel aged)
PRODUCT: Cooper & Thief Red Blend
While other wines celebrate doing the same thing for centuries, Cooper & Thief celebrates doing things differently. They believe challenging the ordinary makes for an interesting story.
Cooper & Thief isn't like other wines. It's born from mischief.
Cooper & Thief is a dark and jammy red blend loaded with bourbon-inspired flavors and aromas. Aging for three months in ex-bourbon barrels gives way to soft velvety tannings, with a subtle heat. The combined result is a rich flavor with a long, lingering finish.
WEBSITE: https://www.cooperandthief.com/