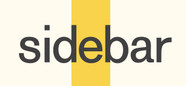 Sidebar
---
ORIGIN: US: California
TYPE/VARIETAL: Sauvignon Blanc
PRODUCT: Sidebar Sauvignon Blanc High Valley
Sidebar means "the bar adjacent to the main bar" or "the sidelight of a main story."
Sidebar Cellars is the second label of David Ramey and Ramey Wine Cellars. It is the product of the Ramey team's desire to have some fun and a little instant gratification while waiting for our Ramey bottlings to mature.
Apart from the dedication to deliciousness and quality, Sidebar remains distinct from Ramey in its varietals and tempo, to be considered under a different set of values.
Sidebar wines are aged to perfection & no longer – brightness is key. These wines are classically styled in keeping with their philosophy & tradition.
These aren't wines for just the young; they are wines best drunk young with all their varietal vigor intact.
Sidebar wines are for any time of day, any day of the week, particularly suited for casual enjoyment on the patio or amongst a spontaneous gathering of friends.
WEBSITE: http://www.sidebarcellars.com/
ADDITIONAL PRODUCTS:
Sidebar Kerner
Sidebar Rose
Sidebar Red Field Blend RRV
Sidebar Sauvignon Blanc Ritchie Vineyard
Back to Wines: US: California