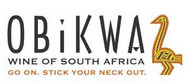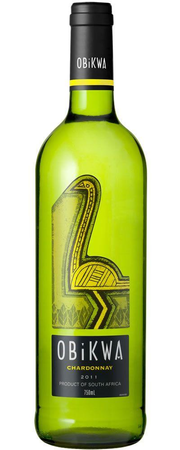 OBiKWA
---
ORIGIN: South Africa
TYPE/VARIETAL: Chardonnay
PRODUCT: OBiKWA Chardonnay
OBiKWA wines are palate-pleasing with a sense of fun, as depicted by the bright yellow ostrich with its remarkable long neck! Produced in the Adam Tas Cellars in Stellenbosch, these wines pay homage to the intrepid OBiKWA people for whom the ostrich represents a life force and trusty companion.
These wines individually express ethnic charm and character with a distinctive South African heritage. Just like the OBiKWA people used to tread lightly to look after their environment, the OBiKWA producers are also trail blazers in minimizing their carbon footprint.
They have a strong commitment toward sustainability and the environment, and they adhere to eco-friendly practices at every stage of the process, from growing their grapes in the vineyards, right up until the wines are bottled in the OBiKWA winery.
So next time you and your mates are enjoying a well deserved drink, you can be sure Mother Nature is smiling down at you. Life is a journey worth celebrating with friends, so go on, stick your neck out!
WEBSITE: http://www.obikwa.com/