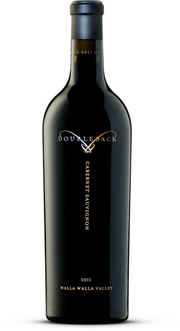 Doubleback
---
ORIGIN: US: Washington
TYPE/VARIETAL: Cabernet Sauvignon
PRODUCT: Doubleback Cabernet Sauvignon
Chris Figgins and Drew Bledsoe go back many years, as they grew up a stone's throw from each other, some 400 yards from the Leonetti Cellar Estate in Walla Walla, Washington. After high school, they both went on to pursue their own ambitions and personal successes. The two reconnected in early 2007 when Drew made the decision to enter the wine business. After much research, Drew decided on his hometown of Walla Walla as his first choice for his vineyard and winery location.
Chris was certainly at the top of Drew's list for a consulting winemaker but he was unsure of Chris' interest outside of Leonetti Cellar. The timing was very serendipitous as Chris had just started Figgins Enological and was looking for the perfect client for his first consulting collaboration. Chris, having a very high respect for Drew, seriously entertained taking on Doubleback as his client and their business relationship became official in the spring of 2007 just as Drew announced his retirement from the NFL.
Chris consults on all winemaking and viticulture practices as well as assisted in the vineyard design and planting for McQueen, Drew's estate vineyard in the Walla Walla Valley. It is a true collaboration...from dirt to bottle.
WEBSITE: http://www.doubleback.com/