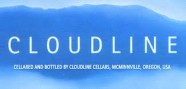 Cloudline
---
ORIGIN: Oregon
TYPE/VARIETAL: Pinot Noir
PRODUCT: Cloudline Pinot Noir
Vinified under the careful eye of consulting winemaker Véronique Drouhin-Boss, Cloudline has quietly become one of Oregon's most successful brands, and the Pinot Noir remains true to its reputation for high-quality and value.
The 2012 Cloudline Pinot Noir is the 11th vintage of this highly acclaimed Pinot Noir and it now carries the premium Willamette Valley appellation.
Also, for the first time, Cloudline has been bottled in the new Eco Series™ bottle, which keeps the elegant look and feel of the classic Burgundy-shaped bottle but uses 20% less glass.
WEBSITE: http://www.dreyfusashby.com/results.php?q=cloudline