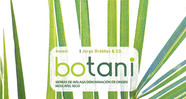 Bodegas Botani
---
ORIGIN: Malaga, Andalucia, Spain
TYPE/VARIETAL: Muscat
PRODUCT: Botani Dry Muscat
The winery is the result of collaboration between Jorge Ordonez, who was born and raised in Malaga, and Alois Kracher, the late world famous Austrian winemaker who was famous for his dessert wines. It was Jorge's dream to revitalize the dormant wine industry in his hometown and restore its former glory. Although Jorge's initial attempts did not work, once he teamed with Alois Kracher, Jorge Ordonez & Co. was born, becoming the first to make an unfortified dessert wine in the D.O., and the first to make a dry Muscat of Alexandria.
The philosophy of the founders and the winery was to restore the D.O. Malaga to its former prominence in the world of wine and to make an unfortified dessert wine (in a region where tradition dictated the use of a rope, a slow cooked concentrated grape must to sweeten the wine) using the most modern technologies. In their quest they have also developed the finest dry Muscat in the world.
Bodegas Botani Moscatel Dry Muscat shows a pale straw color. Fresh, fragrant and mature, brimming with the aroma of Muscat grape, apple, mandarin orange and a pinch of wilted flowers. On the palate it is fruity and dry, with notes of citrus and a gentle finish.