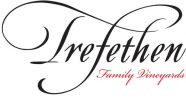 Trefethen
---
ORIGIN: US: California
TYPE/VARIETAL: Merlot
PRODUCT: Trefethen Merlot
Because Merlot flourishes in relatively cool growing regions with moist soils, it's extremely well-suited to the ancient alluvial loams, temperate climate, and long growing season of Trefethen's estate vineyard in the Oak Knoll District of Napa Valley, a sweet spot between Napa's warmer up-valley regions and its cool southern tip.
Trefethen's Merlot bounds from the glass with a potpourri of ripe black cherry, plum compote, smoked meat, dried tomato, black olive, black tea and sweet vanilla aromas that preface a lush, round, lengthy palate of concentrated dark cherry, plum, cassis and pie spice flavors.
Rich and complex, this is a Merlot to ponder and savor.
WEBSITE: http://www.trefethen.com
ADDITIONAL PRODUCTS:
Trefethen Dry Riesling
Trefethen Late Harvest Riesling
Trefethen Estate Chardonnay
Trefethen Estate Cabernet Sauvignon
Trefethen Reserve Cabernet Sauvignon
Trefethen Library Cabernet Sauvignon
Trefethen Halo
Trefethen Dragon's Tooth

Trefethen Double T
Trefethen Double T Chardonnay
Back to Wines: US: California