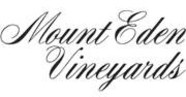 Mount Eden Vineyards
---
ORIGIN: US: California
TYPE/VARIETAL: Cabernet Sauvignon
PRODUCT: Mount Eden Estate Cabernet Sauvignon
Mount Eden Vineyards is a small historic wine estate located on a 2000-foot peak in the Santa Cruz Mountain Appellation about 15 miles from the Pacific Ocean. Founded in 1945, it is recognized as one of the original "boutique" California Winery properties, focusing on small lots of Pinot Noir, Chardonnay, and Cabernet Sauvignon. Mount Eden's lineage of estate bottled Chardonnay and Pinot Noir is the longest in California. Planted in austere, infertile Franciscan shale on a cool, exposed mountaintop, the low-yielding estate vineyards have consistently produced world class wines for over a half century.
The heritage of Mount Eden Cabernet Sauvignon dates back to the 1890s, when the famed viticulturist Emmett Rixford of Woodside, California, obtained selected cuttings from Chateau Margaux in Bordeaux, France. Rixford planted his famous La Questa Vineyard with these selections, in the same proportions as found at Margaux.

In the late 1940s Martin Ray planted his first Cabernet vineyard with cuttings from the La Questa Vineyard. The present-day Estate Cabernet Sauvignon vines were planted in the early 1980s using cuttings taken from these vines. Yields are low, typically one to two tons per acre. Soils are very thin (1-12 inches), with a dominant base of Franciscan shale. The climate is cool, especially for Cabernet, and influenced by the vineyard's altitude and its proximity to San Francisco Bay and the Pacific Ocean. The vines are trellised in a modern fashion, which allows for a more uniform ripening. The vineyard also contains small blocks of Merlot and Cabernet Franc.
WEBSITE: http://www.mounteden.com
ADDITIONAL PRODUCTS:
Mount Eden Estate Chardonnay
Mount Eden Estate Pinot Noir

Mount Eden Arroyo Seco Chardonnay
Mount Eden Saratoga Cuvee Chardonnay
Mount Eden Wolff Vineyard Chardonnay

SEE ALSO:
Domaine Eden
Back to Wines: US: California