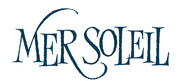 Mer Soleil
---
ORIGIN: US: California
TYPE/VARIETAL: Chardonnay
PRODUCT: Mer Soleil Silver Unoaked Chardonnay
Using Chardonnay grown in special blocks of the Mer Soleil Vineyard in the Santa Lucia Highlands of Monterey County, they harvested the grapes when just fully ripe, their gold color hued with the green, expressing clean aromas of Chardonnay fruit and firm acidity.
The grapes were pressed and fermented in both stainless steel and cement vats, with no oak contact or malolactic fermentation. They bottled the wine early in the year and capped it with a twist top to maintain its fresh character and crisp citrus finish.
The result is a Chardonnay considered as sleek and cool as Silver.
WEBSITE: http://www.mersoleilvineyard.com
ADDITIONAL PRODUCTS:
Mer Soleil Chardonnay Reserve Santa Lucia
Mer Soleil Chardonnay Reserve Santa Barbara

Other WAGNER FAMILY OF WINE brands on our website:

Caymus (Cabernet)
Conundrum (proprietary white or red blend)
Emmolo (Sauvignon Blanc or Merlot)

Back to Wines: US: California