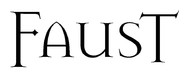 Faust
---
ORIGIN: US: California
TYPE/VARIETAL: Cabernet Sauvignon
PRODUCT: Faust Cabernet Sauvignon
Faust, the wine, celebrates a legend which has inspired many great minds, among them the German poet Goethe, from whose masterpiece they draw their inspiration. In Goethe's most famous work, the aging scholar Dr. Faust barters his soul in the afterlife in exchange for another chance at youth. He gets his chance, yet ultimately his soul is saved by love.
A balance of ancient art and contemporary technology transforms the finest grapes grown in our vineyard into nectar of magnificent proportions. A bold wine that will harmonize with fine food and encourage animated conversation, this seductive Cabernet Sauvignon may tempt you to make rash, even devilish choices. But fear not, love will save you in the end.
Faust is the epitome of the style that has made Napa Cabernet Sauvignon world renowned: bold and powerful, yet elegant and concentrated. Top Cabernet Sauvignon lots are selected from vineyards Agustin Huneeus owns in Rutherford, a Napa Valley appellation synonymous with the best of Napa Valley Cabernet, as well as the up and coming, soon to be named Tulocay viticultural area south of Atlas Peak.
Both vineyards are carefully tended to produce low yields and great concentration. The grapes are double sorted and crushed at Quintessa, one of the Napa Valley's most technologically sophisticated wineries, featuring gravity-flow design, oak fermentation and naturally cooled caves.
WEBSITE: http://www.faustwine.com