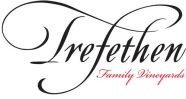 Double T
---
ORIGIN: US: California
TYPE/VARIETAL: Chardonnay
PRODUCT: Double T Chardonnay
This little sister of the internationally successful Trefethen Chardonnay is made with fruit from the younger vines. It's a little less complex than its world-class sibling, but has a lot of Trefethen family charm.
Delightful aromas of citrus, peach and nectarine reflect how Chardonnay thrives in their vineyard in the heart of Napa Valley. The bright fruit is augmented by judicious use of French oak barrels-lending notes of graham cracker and baking spices while enhancing the full-bodied mouthfeel.
Enjoy this casually elegant wine with seafood, poultry, pasta, or pork...or just for sipping!
WEBSITE: http://www.trefethen.com
ADDITIONAL PRODUCTS:
Trefethen Double T

Trefethen Dry Riesling
Trefethen Late Harvest Riesling
Trefethen Estate Chardonnay
Trefethen Estate Cabernet Sauvignon
Trefethen Reserve Cabernet Sauvignon
Trefethen Library Cabernet Sauvignon
Trefethen Merlot
Back to Wines: US: California