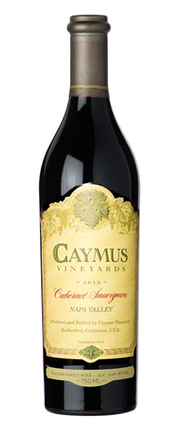 Caymus
---
ORIGIN: US: California
TYPE/VARIETAL: Cabernet Sauvignon
PRODUCT: Caymus Napa Valley Cabernet Sauvignon
A blending of cabernets from selected sites throughout the Napa Valley, Calistoga to Napa City, can create great dimension and complexity in a wine. The grapes that produce this cabernet are all located at very desirable sites for this variety. An additional and significant fact about Caymus cabernets is that the wine is a blend of Mountain and Valley fruit; creating yet another dimension of richness in character.

The tannin levels of Caymus wines are higher and the acidity lower than most other Napa Cabernets. The processes from vineyard to the winery are responsible for this desirable combination. The wine is "nuanced" with French oak aging for 16 months before bottling. The goal at Caymus is to make wine that tastes exciting in its youth or in its wisdom of 10 years or more.
Making wines in the Napa Valley has been a family tradition for over 100 years. In the Caymus household the wines are served with a meal and enjoyed with friends and family.
WEBSITE: http://www.caymus.com
ADDITIONAL PRODUCTS:
Caymus Special Selection Cabernet Sauvignon

Other WAGNER FAMILY OF WINE brands on our website:

Conundrum (proprietary white or red blend)
Mer Soleil and Silver (Chardonnay)
Back to Wines: US: California