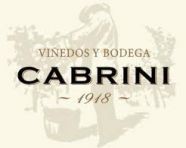 Bodega Cabrini
---
ORIGIN: Argentina (Mendoza)
TYPE/VARIETAL: Malbec
PRODUCT: Cabrini Malbec
Founded in 1918 by Leandro Cabrini, Bodega Cabrini is a family-owned winery with a tradition going back four generations. Currently Leandro's great-grandchildren are continuing the legacy of producing quality wines.
In the late nineteenth century, Leandro Cabrini, pioneer and protagonist of the first generation, came to Argentina, filled with dreams and hopes. He had emigrated in 1896, settling first in Buenos Aires then several years later moving to Mendoza. In 1918 he bought his first vineyards which are still in family possession. Leandro choose the location of his winery with vineyards planted to Malbec, the most widespread variety in Luján de Cuyo. This department of the Mendoza wine district is referred to "first zone" due to soil characteristics and climate which are ideal for growing high quality grapes.
Leandro had two sons, William and Louis, both Italians, who represented the second generation of the family at Bodega Cabrini. Through their leadership, new vineyards were acquired and winery facilities enlarged, substantially increasing production levels.
The 1950s marked a new stage of the family winery, with Don Luis Cabrini's children, Elisha, William, George and John, now managing the operation. This represented the third generation in the family business. Under their capable management, new grape varietals were planted and the expansion into new markets commenced.
Today the fourth generation of the Cabrini family is now actively involved, with Fernando, Hugo and Mauricio managing the wine estate. Combining family tradition with contemporary technology, Bodega Cabrini continues to achieve outstanding results within its product range. Much of the production today is stored in stainless steel tanks, with wines of higher quality being aged in French and American oak barrels. The winery continues to produce its best wines from old vines at high altitudes to achieve optimal elegance and sophistication. We can expect the same level of quality to continue on for many generations to come.