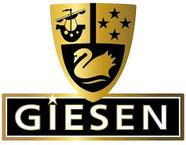 Giesen
---
ORIGIN: New Zealand
TYPE/VARIETAL: Sauvignon Blanc
PRODUCT: Giesen Sauvignon Blanc
GIESEN WINES WAS FOUNDED BY THREE BROTHERS, THEO, ALEX AND MARCEL GIESEN, WHO MADE THE BOLD LEAP FROM GERMANY TO NEW ZEALAND IN 1981 TO MAKE WORLD CLASS WINES.
Over the last 30 years they have laid deep roots in the Marlborough region, developing their own vineyards and simply making wines that people want to drink and that is all there is to it.
"We set out to create wines which people enjoy drinking and our diverse and outstanding vineyard sites, leading viticultural practices, and consistent winemaking have allowed us to deliver a remarkably refreshing, unfailingly consistent, eminently drinkable wine."
The estate range offers their most approachable flavors including their famous New Zealand Marlborough Sauvignon Blanc. For a delicious wine that will leave your tastebuds begging for more, try Giesen wines.
WEBSITE: https://www.giesen.co.nz/
ADDITIONAL PRODUCTS:
Giesen Pinot Noir
Giesen Riesling
Giesen Pinot Gris
Giesen Sauvignon Blanc "The Fuder"
Giesen Pinot Noir "Clayvin"
Giesen Sauvignon Blanc "The August 1888"
Giesen Estate Pinot Noir
Back to Wines: New Zealand