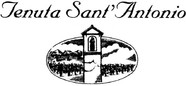 Tenuta Sant'Antonio
---
ORIGIN: Italy
TYPE/VARIETAL: Amarone
PRODUCT: Tenuta Sant'Antonio Amarone Selezione Antonio Castagnedi
Inheritors of their father's 20 hectare estate in the eastern part of the Valpolicella zone, the four Castagnedi Brothers (Tiziano, Armando, Paolo & Massimo) acquired another 30 hectares in 1989 and which spurred the birth of the estates first wines as Tenuta Sant'Antonio in 1995. All four brothers are involved in the project, with extensive experience managing their father's vineyards as well as consulting for properties throughout Italy.
Tenuta Sant'Antonio's hillside vineyards are located among the Mezzane, Lavagno, and San Martino Buon Albergo villages at an average altitude of 350 meters. Meticulous attention to the vineyards in vine density (Guyot trained at 7-8,000 vine per hectare), hand harvesting, and low yields provide fruit of exceptional quality and thus need minimal "intervention" during wine-making.
The commitment to the highest quality wines combined with the extensive "estate" vineyard holdings situate them as one of only a handful of properties in Valpolicella who are capable of producing world class wines in sufficient quantities to provide both availability and affordability. They are positioned to become one of the most important producers in this zone in the coming years.
WEBSITE: http://www.tenutasantantonio.it/index.php/en/
ADDITIONAL PRODUCTS:
Tenuta Sant'Antonio Amarone Campo Dei Gigli
Tenuta Sant'Antonio Valpolicella DOC
Tenuta Sant'Antonio Valpolicella Ripasso Monte Garbi
Tenuta Sant'Antonio Recioto della Valpolicella Argille Blanche
Back to Wines: Italy