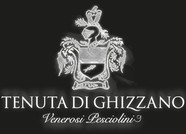 Tenuta Di Ghizzano
---
ORIGIN: Italy
TYPE/VARIETAL: 95% Sangiovese, 5% Merlot
PRODUCT: Ghizzano il Ghizzano
It is believed that our family settled in Ghizzano towards the end of the 14th century. The winery and oli mill are both situated right next to the tower built in 1370 by our Venerosi Pesciolini ancestors. Grapes and Olives, and the production of wine and oil, have been at the heart of our family's activities and have encompassed the whole of the Estate as it is today.Ghizzano is a small hilltop village, about 200m above sea level, not far from the Tuscan coast, at 40 km from Livorno and 40 km south of Pisa, in an area referred to as the' Colline Pisane' ( Pisan Hills). The landscape is gentle and the climate mild, thanks to the sea breeze, and without extreme temperatures or great risk of springtime frosts. The land has an interesting makeup.
It was Pierfrancesco Venerosi Pesciolini who really understood the potential of the Tenuta di Ghizzano which today is one of the most innovative Estates in the area. Pierfancesco felt passionately about his land and fully recognized it's qualities and he made an important contribution to the renewal of Italian winemaking through his products.
In the 1980's, this area was hit by crisis and agriculture, in particular wineries, suffered greatly. Whilst many of our neighboring farms pulled up their vines or were even forced to sell their land Pierfancesco Venerosi Pesciolini decided to go against the tide and courageously invested both in the vines and the winery with the aim of producing a better quality product. In difficult conditions, in a time when an overproduction of grapes tended to lead to a poor quality wine at ridiculously low prices, our father dared to try and produce a 'serious' wine, perhaps in small quantities, but able to stand up to the market.
With the help of a friend, Piermario Meletti Cavallari, the indigineous Sangiovese variety was researched and production of aCabernet Sauvignon and Merlot began. A new wine was born…
WEBSITE: http://www.tenutadighizzano.com/