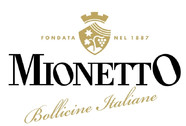 Mionetto
---
ORIGIN: Italy
TYPE/VARIETAL: Prosecco
PRODUCT: Mionetto Prosecco Brut
The Mionetto Prosecco Brut has an intense fruity bouquet with a hint of golden apples. It is very dry, fresh, light in body and well-balanced. This wine is perfect alone as an aperitif or as a delightful complement to appetizers such as prosciutto or mild cheeses. Excellent as a base for Bellinis and other sparkling wine cocktails.
The Prosecco grape originated during Roman times and is one of the oldest grapes in Italian history. Its origin and name can be traced back to the town of Prosecco in Trieste. Prosecco is traditionally a dry wine with hints of apple and citrus.
Prosecco's popularity has increased rapidly over the last ten years, particularly in Europe and the United States.
WEBSITE: http://www.mionettousa.com
ADDITIONAL PRODUCTS:
Mionetto Moscato Dolce
Mionetto Prosecco Organic
Mionetto Gran Rose
Mionetto Valdobbiadene Superiore DOCG

Sergio Extra Dry
Sergio Rose

IL Lambrusco
IL Moscato
IL Prosecco
IL Spr!z
IL Ugo
Back to Wines: Italy