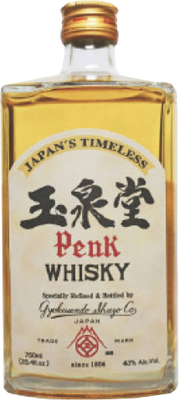 Gyokusendo Peak Whisky
---
ORIGIN: Japan
TYPE/VARIETAL: Whiskey
PRODUCT: Gyokusendo Peak Whisky
In the Yoro area, there is a legend that the flow of a waterfall turned into full-flavored sake. Gyokusendo has been producing various types of alcohols including Japanese sake for over 200 years with the high quality of this water. Gyokusendo continues to challenge itself to seek "the way to produce tasty sake", while maintaining handmade and small-quantity production.
The brewery mainly produces sake but also produces mirin, shochu, umeshu, whisky and other liquors. The company is located in Yoro, Gifu prefecture, where it is blessed with abundant soft ground water suitable for brewing.
This whisky is highly aromatic and a rich and rounded taste from storing in sherry barrels.