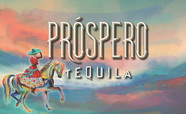 Prospero Tequila
---
ORIGIN: Mexico
TYPE/VARIETAL: Tequila
PRODUCT: Prospero Tequila Reposado
Born of the lush, volcanic soil of the tequila valley, the majestic Blue Agave infuses the landscape from which Próspero Tequila is created.
Designed by Stella Anguiano, one of Mexico's premier female Master Distillers, Próspero is a hand-crafted spirit that offers an unparalleled flavor with a smooth, elegant and perfectly balanced finish. Exquisite care is taken throughout the production process to ensure that each bottle reflects pride in the spirit – inside and out. Every element is crafted by hand; from the elegant bottle to the perfectly balanced liquid, to the artistically illustrated label. Próspero is driven by a commitment to maintain the same process and quality that comes from family tradition – doing things slowly, with patience and with passion.
Aged a minimum of 6 months, Próspero Reposado has a distinct golden tone and a flavor with rich round notes of vanilla, white flowers and lingering spice.
WEBSITE: https://www.prosperotequila.com/