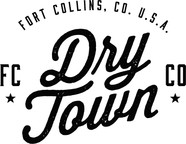 Dry Town Gin
---
ORIGIN: US: Colorado
TYPE/VARIETAL: Gin
PRODUCT: Dry Town Gin
From 1896 – 1969, Fort Collins was a dry town and relied on bootleggers for its libations.
After a hard day's work, the farmer, the banker, the mill worker, they all had to sneak around to get a sip of the good stuff. They made honest livings. They were good citizens. But they had a little rebelliousness in them, an outlaw spirit that urged them to break the rules.
We think there's a little bit of that rebel spirit in all of us, and it's what fuels the creation of our Dry Town Gin, using the highest quality ingredients to create outstanding drinkability and taste. To commemorate this 73-year prohibition, Dry Town created a gin not only worthy of a martini, but legends all their own.
For its distinct taste and superb quality, Dry Town Gin won Double Gold at the 2016 New York International Spirits Competition. Dry Town Gin is crafted in Colorado and made with 10 botanicals through an 18-hour soak and vapor extraction. This process brings out the best of each botanical and creates a distinctively refreshing herbal, piney and citrus flavor. It's all about highlighting the ingredients to bring forward the true expression and character.
WEBSITE: https://drytown.com/