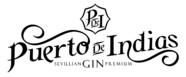 Puerto de Indias
---
ORIGIN: Spain
PRODUCT: Strawberry Gin
Puerto de Indias is a Premium Gin manufactured in Carmona (Seville) in one of the oldest and most traditional distilleries in the province of Andalusia. Its name relates to the discovery of the Americas around the time when Seville was quickly becoming one of the principal trading ports for the exchange of goods between Spain and the New World.
The distillery, which produced the first Andalusian 'Pacharán', also produces a wide range of other products, highlights among which include "Los Hermanos" anisette and the "Triunfo" range of liquors.
The distillery's history goes back to 1880, when an immigrant from the Basque Country with the family name Izaguirre came to Carmona while fleeing from the Carlist Wars. Settling on the land that now houses the distillery, Izaguirre decided to avail of Roman-era natural subterranean springs to begin elaborating a series of spirits distilled in copper stills using traditional methods.
Over the years these facilities have seen the birth of such diverse and traditional products as anisette, Pacharán and, most recently, three varieties of gin: Strawberry, Classic and Pure Black Edition.
The quality of the finished product is the result of a decision to use only the finest raw materials. The strawberries, plants and other ingredients used in the manufacturing process are carefully selected from different geographical areas in an effort to obtain a truly first class product.
The combination of know-how and innovation coupled with dedication and careful monitoring of the distilling process have made possible the creation of a product that possesses its own distinct identity and which, having consolidated itself on a nation-wide level, has now begun its incursion into international markets.
WEBSITE: https://ginpuertodeindias.com/?lang=en