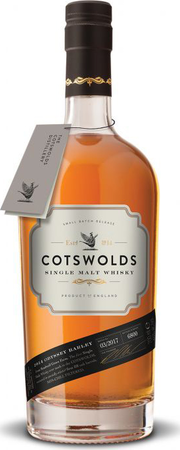 Cotswold
---
ORIGIN: England
TYPE/VARIETAL: Whisky
PRODUCT: Cotswold Single Malt Whisky
Whiskey
Whisky production is at the heart of everything they do at the distillery. Their Cotswolds Single Malt is a rich, fruity and sippable whisky. It has a balance and depth of flavour that belies its young age, due to the exceptional attention to detail in their distilling and use of the finest oak casks for maturation.
They began laying down casks to mature in September 2014, and have filled a number of different types. These will be released in due course, allowing them to add a variety of different bottlings to their range as the years progress.
Gin
Distilled with nine carefully considered botanicals, the Cotswolds Dry Gin is a London Dry with an aromatic twist. They distil juniper, coriander seed, angelica root, local lavender, bay leaf, hand-peeled fresh lime and pink grapefruit zest, cardamom and black peppercorn in our copper pot still, resulting in a rich and robust, award-winning gin.
Produced in small batches, this is handmade gin with no corners cut.
WEBSITE: https://www.cotswoldsdistillery.com/