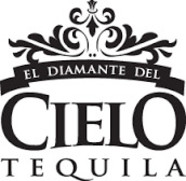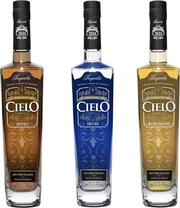 Cielo
---
ORIGIN: Mexico
TYPE/VARIETAL: Blanco, Reposado, & Anejo
PRODUCT: Cielo Tequila
After the hand-selected piña reaches the distillery, the agave is steamed to release its nectar, fermented and distilled in small state-of-the-art pot stills. Unlike most tequilas that are distilled only twice as required by the Mexican government, El Diamante del Cielo is distilled three times to enhance the purity and heighten the agave flavor resulting in the finest crafted Tequila you will ever find.
Cielo Tequila - Añejo
Expert aging and blending result in a sophisticated, oaky body and rich bold flavor. Aged up to four years in small oakbarrels, our Añejo exhibits a vivid, golden copper color. Decadent aromas of toffee, vanilla, perfume and rich brown spices. A super smooth entry leads to a rich dry-yet-fruity full-bodied palate with caramel, grilled tropical fruits, lavish brown spices, and a touch of salt and pepper. Finishes with a long wave of vanilla, oak and buttery, caramel-coated nuts. Exceptionally smooth and flavorful.
Cielo Tequila - Reposado
Smooth and dry, yet fruit forward. Aged up to 364 days in small oak barrels (the maximum aging allowed by law before the tequila is designated Añejo). Pale golden color. Sweet caramel, raw honey and dried flower aromas display a touch of earthy olives and underbrush. A smooth entry leads to a very round dry-yet-fruity medium-to-full-bodied palate with sweet honey, cooked orchard fruit, caramel, olive juice, brown spices and crushed minerals. Finishes with a long vanilla and caramel fade with a brush of spice, oak and white pepper.
Cielo Tequila - Silver
Distilled three times from the piña (heart of the agave), Cielo Silver is clear and natural, with floral agave, roasted pepper, oil and sweet spice aromas. A smooth, round entry leads to a supple, light-to-medium-bodied palate with grilled tropical fruits, honey, pepper, oily nuts and exotic spices. Finishes with a long fruity fade of rich and hearty roasted pepper, sweet honey, stone fruits and freshly shelled nuts.
WEBSITE: http://www.cielotequila.com/