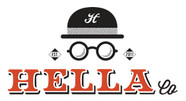 Hella Co.
---
ORIGIN: US: New York
TYPE/VARIETAL: Bitters
PRODUCT: Hella Aromatic Bitters
Hella Co. currently produce a line of bitters, syrups and do-it-yourself cocktail experiences which are all natural, made in small batches and offer you a premium alternative to all that mass-produced stuff out there. Founded in Brooklyn and thriving in NYC, our passion for quality has been there since the beginning and it's how we went from being a weekend project, to a company in serious pursuit of the delicious.
As we've grown we've never lost sight of the craftsmanship of our products. It's a quality we believe belongs behind every bar and in the cabinets of every kitchen. Whether it's a classic cocktail, a brand new recipe or a do-it-yourself kit, Hella Co. is there to make your life more delicious.
Hella Co. is Jomaree Pinkard, Tobin Ludwig, and Eduardo Simeon.
WEBSITE: http://hellacompany.com/
ADDITIONAL PRODUCTS:
Hella Ginger Bitters
Hella Citrus Bitters
Hella Orange Bitters
Hella Smoked Chili Bitters
Hella 5 Bottle Bar Kit
Hella Old Fashioned Kit

See also the Hella line of cocktail mixers:
Hella Tonic Cocktail Mixer
Hella Cola Cocktail Mixer
Hella Hibiscus Cocktail Mixer
Back to Spirits: Bitters