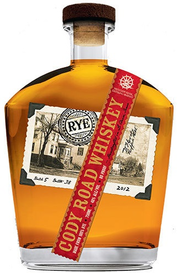 Cody Road
---
ORIGIN: US: Iowa
TYPE/VARIETAL: Whiskey
PRODUCT: Cody Road Rye Whiskey
In 1846, William "Buffalo Bill" Cody was born in LeClaire, Iowa. During his storied life, he was regarded as a regular purveyor of whiskey. Legend has it that rye whiskey was his spirit of choice.
Handmade from 100% local rye purchased from Dave and Jim Wherry in Fulton, Illinois. Cody Road Rye is a unique spirit that showcases the wonderful spiciness of this one-of-a-kind grain along with the delicate fruitiness that is often lost in rye whiskies. Rye is known for being a bold and spicy grain. Mississippi River Distilling Company distills it very cleanly so you can experience a sweet fruitiness that is unexpected from rye. Then, the signature spiciness will linger in the back of your mouth. Let it set in the glass for a few minutes, and taste the complexities of rye as they soar from your glass.
Perfect for classic cocktailing, the signature sweetness of this whiskey is a perfect compliment for many pre-Prohibition cocktail recipes that were invented when rye whiskey was king.
Share some with your friends and raise a glass to one of America's greatest heroes. Enjoy a stroll down Cody Road today!
WEBSITE: http://www.mrdistilling.com/frame/products_rye.shtml