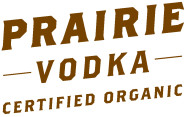 Prairie Organic
---
ORIGIN: US: Minnesota
TYPE/VARIETAL: Vodka
PRODUCT: Prairie Organic Vodka
Crafted in Benson, Minnesota, by a fifth-generation family of spirit makers and a co-op of over 900 farmers. Micro-distilled exclusively from organic, #2 yellow corn grown nearby the distillery on three family farms, the leftover corn cobs are gasified to provide energy for the stills.

Named "Best New Vodka" by Food & Wine Magazine in 2009 and winner of the Double Gold Medal at the 2008 San Francisco World Spirits Competition.

Prairie is beautifully smooth on the palette with hints on melon and pear on the nose. Distilled and bottled in limited quantities, Prairie is not always easy to find, but is now available in the USA, Canada and soon in Europe. Enjoy!
WEBSITE: http://www.phillipsdistilling.com