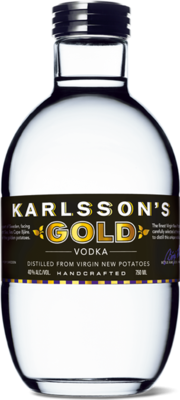 Karlsson's
---
ORIGIN: Sweden
TYPE/VARIETAL: Vodka
PRODUCT: Karlsson's Gold Vodka
Karlsson's Vodka is the story of a few families from a small part of Sweden who joined together to create unique vodka out of a rare and expensive delicacy.
In 2001, the potato farmers of Cape Bjäre (Bjärehalvön) were in jeopardy of losing their family farms to the golf clubs and resorts that were taking over the picturesque region. The farmers recognized the superior quality of their crop but didn't have a system in place to efficiently sell these Virgin New Potatoes. Peter Ekelund, a Swedish entrepreneur who owns a farm in the area, suggested they create a co-operative to help clean, sort and process their unique crop, also known as "Farmer's Gold." This co-op allowed the farmers to more effectively sell their revered specialty potatoes and preserve the historic area.
Ekelund took this initiative a step further when he asked an old colleague if it would be possible to make vodka from these exceptional little potatoes. Börje Karlsson, the Master Blender from V&S Group during the creation of Absolut Vodka, took up the challenge. After a few years of trial and testing, Karlsson finally came up with something to which he could give his name. A single-distilled and unfiltered expression of the delicate raw ingredients from which it is made, Karlsson's Vodka is the world's only vodka made from Virgin New Potatoes.
We invite you to learn more about this unique product and elevate your drink experience with Karlsson's — a vodka with remarkable character and natural flavor.
WEBSITE: http://karlssonsvodka.com/