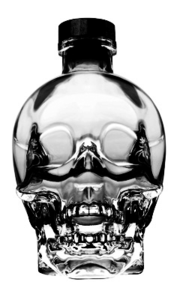 Crystal Head
---
ORIGIN: New Foundland, Canada
TYPE/VARIETAL: Vodka
PRODUCT: Crystal Head Vodka
Crystal Head Vodka is a luxury vodka, quadruple distilled, then triple filtered through polished crystals known as Herkimer Diamonds. Made from water from a deep aquifer in New Foundland, Canada, it is pure spirit free of any additives such as sugar, glycerin, or citrus oil.
Crystal Head Vodka is made using one of the planet's cleanest, sweetest water sources... the pure glacial aquifers of Newfoundland, Canada. The mash is distilled only 4 times so as not to diminish taste. The liquid is then filtered 3 times through charcoal and then poured 3 times through Herkimer semi-precious crystals. The smoothness you experience is achieved not by what they add to the vodka but rather what they do NOT add. Unlike many vodkas Crystal Head does not use glycol, citrus oil or raw sugar. The result, contained in the skull bottle designed by world renowned artist John Alexander, is a naturally smooth premium beverage.
Manufactured in the beautiful province of Newfoundland and Labrador, Crystal Head Vodka, Pure Spirit, has been awarded a Double Gold Medal at the San Francisco World Spirits Competition for 2011. This means 30 judges voted unanimously for this vodka as the best tasting out of 200 brands.
Tasting notes are "sweet, vanilla, dry, crisp with a kick of heat off the finish."
WEBSITE: http://www.crystalheadvodka.com