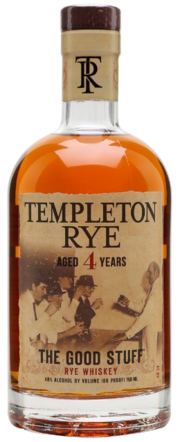 Templeton
---
ORIGIN: US: Iowa
TYPE/VARIETAL: Rye Whiskey
PRODUCT: Templeton 4 Year Rye Whiskey
When Prohibition outlawed the manufacture and sale of alcoholic beverages in 1920, many enterprising residents of a small town in Iowa chose to become outlaws – producing a high caliber and much sought-after whiskey known as Templeton Rye, or "The Good Stuff" to those in the know. Although most American whiskeys ceased production after prohibition ended, Templeton Rye continued to be produced illegally in small quantities for loyal patrons. More than eighty-five years later, the infamous "small batch rye whiskey" finally returned – made available legally for the first time ever in 2006.
Based on the original Prohibition era recipe and aged in charred new oak barrels, Templeton Rye provides a smooth finish and a clean getaway. Only dedication to the entire process can achieve the proper balance that gives Templeton Rye its great rye character and surprisingly smooth finish that Jim Murray of the Whiskey Bible described as "a huge, unmistakable rye."
Starting with a formula born out of a family's need to maintain their livelihood during the Prohibition era, Templeton's master distillers utilize the original Kerkhoff family recipe – unique for the remarkably high rye content of its mash. And while the process has changed some since Prohibition, the unyielding attention to detail hasn't budged.
WEBSITE: http://www.templetonrye.com/home/