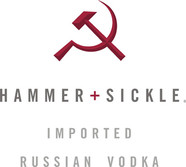 Hammer + Sickle
---
ORIGIN: Vodka
TYPE/VARIETAL: Russia
PRODUCT: Hammer + Sickle Vodka
Russian vodka has been regarded for centuries as the highest quality vodka in the world. Hammer + Sickle vodka continues this proud tradition by offering a flavor and smoothness that is simply unparalleled.
The process begins deep in the Black Earth region of central Russia where arctic temperatures promote the growth of this exceptional crop. Every spring, the wheat is harvested and dry shipped to their distillery in Klin, where their masters of the craft produce small, custom batches of ultra smooth vodka.
Hammer + Sickle vodka is true to its Russian roots. The name "Hammer + Sickle" pays homage to the Russian hammer symbol representing the industrial north of Russia, while the sickle represents the agricultural south. The crossed hammer and sickle stand for the unity between the north and south. Today, the emblem evokes the nationalistic spirit of modern Russia.
Hammer + Sickle delivers a vodka worthy of its Russian heritage with a smooth flavor, iconic emblem and stark, icy packaging.
WEBSITE: http://www.hsvodka.com