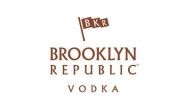 Brooklyn Republic
---
ORIGIN: US: New York
TYPE/VARIETAL: Vodka
PRODUCT: Brooklyn Republic Vodka
Brooklyn Republic is a small, family-owned company dedicated to combining their passion for and deep knowledge of their two favorite things: Vodka and Brooklyn. Brooklyn is more than where they live; it's who they are. Authenticity and originality are at their purest forms in Kings County and the people, cultures, history and experiences found there inspire them everyday. They fuse classic inspiration with modern innovation to celebrate the place they call home with every bottle they make.
First, the finest grains from the American Midwest are selected to undergo an initial 6-column spirit distillation right near where they're harvested. Each still is designed to remove a specific impurity. They choose 6-column distillation over traditional still processing because of its highly refined ability to make exceptional raw spirit.
The vodka is blended, purified, perfected and bottled by their Master Blender who personally monitors every single batch for quality. They blend several grain spirits, including organic wheat and sweet corn, with purified local Brooklyn water, which is known for its distinct sweetness. It is then rectified (purified) multiple times through active carbon at sub-zero conditions, a temperature condition many other vodka producers often forego. About seven days later, after several filtration and testing cycles to reach optimal taste and quality, the vodka is bottled, corked and ready to drink.
Brooklyn Republic Vodka is handcrafted to achieve a smooth sweetness unmatched by others and with absolutely no additives. Their proprietary selection of grain spirits balances the flavor when combined with purified Brooklyn water, known for its refreshing sweetness, and the resulting vodka's body is medium with a smooth finish.

BKR is Brooklyn's only locally-made vodka, handcrafted in small batches by their Master Blender.
WEBSITE: http://www.brooklynrepublicvodka.com