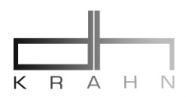 DH Krahn
---
ORIGIN: USA
TYPE/VARIETAL: Gin
PRODUCT: DH Krahn Gin
DH Krahn is an ultra-premium gin, hand-crafted by small batch distillation for a flavor that's crisp, clean, smooth and uncomplicated, but distinctly sophisticated.
At the heart of DH Krahn's unique flavor is their choice assortment of the freshest, highest-quality botanical and spice infusions. All gins use botanicals for flavor. Krahn uses fewer and finer, concentrating on the quality and freshness of each ingredient, and combining them in precise and careful measure to create a crisper, cleaner flavor than any other gin.
The batches rest in steel barrels for at least three months prior to bottling so that each single-pass, small batch distillation can develop its characteristic smooth, mellow consistency naturally.
WEBSITE: http://www.dhkrahn.com