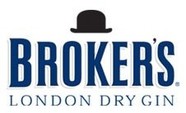 Broker's
---
ORIGIN: England
TYPE/VARIETAL: Gin
PRODUCT: Broker's London Dry Gin
Broker's Gin is small batch, micro-distilled in the heart of England. Located near Birmingham, England, the distillery where Broker's Gin is made is over 200 years old and uses only traditional pot stills. The raw ingredients are quadruple-distilled pure grain spirit made from English wheat, and ten natural botanicals (herbs, spices and fruit). The botanicals are steeped for 24 hours in the pure grain spirit, which is then distilled for a fifth time.
A key icon for the brand is the bowler hat, a distinguishable characteristic of an English gentleman. The two charismatic founders, Martin and Andy Dawson, are true believers in the personality of Broker's, and find that the British humor that accompanies their gin is essential to occasions in which gin is best enjoyed.
Broker's Gin can be enjoyed in a number of cocktails, notably its signature drink "The Londoner."
WEBSITE: http://www.brokersgin.com/