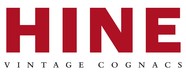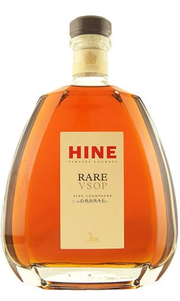 Hine
---
ORIGIN: France
TYPE/VARIETAL: Cognac
PRODUCT: Hine Rare VSOP
Since 1763, the enchanting style of its elegant cognacs has formed the essence of HINE's prestige. Ageing in French oak barrels with delicate tannins, HINE cognacs evolve their delicate fruity aromas and subtle perfumes. A HINE Cognac, like a fine perfume, takes you on a journey of discovery, a sensuous and evocative experience.
The House of HINE stands on the banks of the River Charente, deep in Cognac country. In the ancient cellars behind, little has changed in 250 years. Always locked, they protect the finest vintages. This is one of the oldest houses in Jarnac, and has always been the company's headquarters.
HINE is the privileged owner of an exceptional 297 acres estate, Domaines HINE, at the heart of Grande Champagne, the finest cognac cru. Situated in the small parish of Bonneuil, the gentle slopes of the HINE estate overlook the picturesque Colinaud valley. The estate is planted with 173 acres of vines with an average age of 25 years and the remaining land is covered in woodland to protect the local flora and fauna and favour biodiversity. The entire estate is managed using environmentally-friendly techniques.
The HINE estate benefits from a south-facing aspect, which maximizes the long hours of sunshine and heat — ideal for ripening the grapes to perfection. The cognacs from this premier cru are particularly appreciated for their great finesse, floral bouquet, elegance and long ageing potential.
The Cognac region in south-west France lies some 110km north of Bordeaux and 450km south-west of Paris. In 1909, the Cognac appellation was legally defined and divided into six areas according to the particular style of the cognacs produced within each area. The finest of these are Grande Champagne and Petite Champagne. They produce very elegant, delicate cognacs with rich, flowery aromas and great ageing potential. HINE specializes in cognacs from these two areas.
WEBSITE: http://www.hinecognac.com/accueil.asp