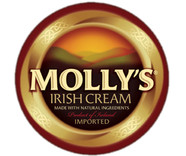 Molly's
---
ORIGIN: Ireland
TYPE/VARIETAL: Cream Liqueur
PRODUCT: Molly's Irish Cream
Molly's Irish Cream is a new and truly delicious blend of fresh Irish cream, aged Irish whiskey, fine Irish spirits and natural chocolate flavors. Not only is Molly's an outstanding product in quality packaging, it comes to the market at an attractive price for the retailer and the consumer.
Simply the best ingredients used: Fresh Irish dairy cream blended with aged Irish whiskey; smooth Irish spirits, the finest natural chocolate and crystal clear Irish spring water.
The shelf life: Many cream liqueurs have a short shelf life. However, Molly's modern blending process and optimal cream content delivers a 2-year best taste shelf life. At Molly's they do not use any additives or preservatives.
WEBSITE: http://www.terra.ie/mollys-irish-cream-liqueur