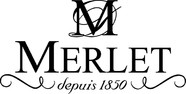 Merlet
---
ORIGIN: France
TYPE/VARIETAL: Liqueur
PRODUCT: Merlet Creme de Cassis
Gilles Merlet became a pioneer by experimenting with the plantation of blackcurrants at the end of the 70's in the Cognac production area. It was a complete success as not only did he grow exceptionally amazing berries but he also used the family's "savoir faire" to produce his own "Creme de Cassis" (blackcurrant cordial).
Nothing can replace fruits matured upon the tree. So the Merlet family leaves time for the blackcurrant berries to fully develop their flavors and waits until the last moment to pick them. This maturity control combined with a strict-yield limitation and modern harvest techniques lead to lovely, luscious fruits.
The best fruits are selected and then immediately after the harvest put into small vats for maceration, in order to capture their full aroma. After pressing and filtration, a rich infusion is collected, very fruity & acidic, to which some sugar is added. A careful bottling process ends this natural production chain.
One sip of Merlet's Creme de Cassis reminds one of their grandmother's home-made jam. The blackcurrant aftertaste lingers endlessly in the mouth!
WEBSITE: http://www.merlet.fr
ADDITIONAL PRODUCTS:
Merlet Creme de Fraise (Strawberry)
Merlet Creme de Framboise (Raspberry)
Merlet Creme de Mure (Blackberry)
Merlet Creme de Peche (Peach)
Merlet Creme de Poire (Pear)

ALSO AVAILABLE:
Merlet Brothers Blend Cognac
Merlet C2 Cassis & C2 Citron (Cognac/Fruit Liqueurs)
Merlet Triple Sec
Back to Spirits: Liqueurs