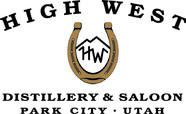 High West
---
ORIGIN: US: Utah
TYPE/VARIETAL: Whiskey
PRODUCT: High West Campfire Whiskey
Utah's first distillery since the 1870's, High West Distillery and Saloon offers a truly unique experience as the world's only ski-in distillery and gastro-saloon. They are located at exactly 7000 feet in the Wasatch Range of the Rocky Mountains in Old Town Park City, Utah.
Founded by prospectors in the late 1860's, Park City became one of the richest silver mining towns in the West, and the best watering hole in Utah. Their aim is for the High West Distillery and Saloon to contribute to that reputation. They invite you to share in their passion for great spirits, and their love for the American West.
High West Distillery and Saloon started with one man's passion to make a great Rocky Mountain Whiskey. Proprietor and distiller David Perkins married his background as a biochemist, his love of bourbon and cooking, and his passion for the American West to bring the craft of small-batch distilling back to Utah, of all places.
WEBSITE: http://www.highwest.com
ADDITIONAL PRODUCTS:
High West Bourye
High West Double Rye!
High West Rendezvous Rye
High West 21 Year Old Rye
High West Silver Western Oat
High West Yippee Ki Yay

ALSO:
High West Peach Vodka
High West Vodka 7000
HIgh West Midwinter Night's Dram
Back to Spirits: Whiskey