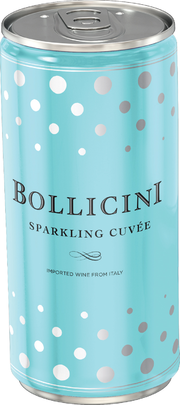 Bollicini
---
ORIGIN: Italy
TYPE/VARIETAL: Prosecco (100% Glera grapes)
PRODUCT: Bollicini Prosecco Brut
Bollicini Prosecco is an Italian sparkling wine made from 100% Glera grapes (formerly known as Prosecco grapes). The Glera grape is very delicate and best suited to the Charmat method of fermentation, where the secondary fermentation occurs in large stainless steel vats under temperature-controlled conditions. This process maintains the freshness and fruitiness that is the hallmark of Prosecco.
Bollicini Prosecco Brut has an intense fruity bouquet with a hint of apple and minerality. It is dry, fruity, fresh, light in body and well-balanced.
This wine is perfect alone as an aperitif or as a delightful complement to appetizers such as salads, smoked meats and cheeses. For main courses, enjoy with fish and shellfish dishes, vegetarian pastas and with light meats such as chicken. Excellent as a base for Bellinis and other sparkling wine cocktails.