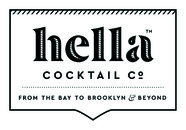 Hella Cocktail Co.
---
ORIGIN: US: New York
TYPE/VARIETAL: Cocktail Mixer
PRODUCT: Hella Habanero Margarita Mix
Hella Cocktail Co. is a mixology company crafted with integrity and rooted in discovery for everyone who wants to taste more and know more. Our mission is to inspire new tastes and endless discovery in the hearts, minds, and bellies of people everywhere.
We provide the inspiration and ingredients for your own experimentation, opening the aperture in mixology and we hope well beyond. We equip you with knowledge and comfort in your own mixology journey. You can impress yourself and guests knowing you're doing all the right things.
WEBSITE: http://hellacocktail.co
ADDITIONAL PRODUCTS:
Hella Margarita
Hella Spicy Margarita
Hella Bloody Mary
Hella Spicy Bloody Mary
Hella Mule

See also the line of Hella Bitters:
Hella Aromatic Bitters
Hella Ginger Bitters
Hella Citrus Bitters
Hella Orange Bitters
Hella Smoked Chili Bitters
Hella 5 Bottle Bar Kit
Hella Old Fashioned Kit
Back to Other Brands: Mixers